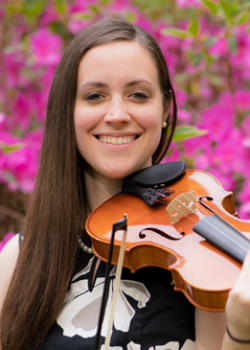 Born and raised in North Carolina, Ashley has been playing the violin since the age of 7 and has always aspired to be a professional violinist. She comes from a musical family: her mother is a violist in the North Carolina Symphony, and her father is a band director and strolling clarinetist and saxophonist. Advancing on the violin very quickly, as a teenager she had the opportunity to attend numerous music festivals around the country, including North Carolinas Brevard Music Festival, Meadowmount School of Music in New York, and the Kennedy Center Summer Music Institute in Washington, D.C. In April 2012, she then graduated from the University of Michigan with a Bachelor's Degree in Violin Performance.
Throughout her life, Ashley has also won various competitions in Raleigh and in Michigan, including 2nd place in the Musical Society for the Arts Competition, 1st place in the Robert C. Young String Competition, the first and youngest string player ever to win the
Raleigh and Durham Symphony concerto competitions in high school, and the Triangle Youth Philharmonic Concerto Competition. She was also chosen to represent the School of Music in Michigan's "Conservatory Project" and got to perform a solo at the Kennedy
Center in Washington, D.C.
Although Ashley has had an extensive background in Classical music, she is equally as passionate about learning other genres of music such as Irish/Scottish, Bluegrass, Blues, and Swing. She has been recorded on 5 CD's, including playing the music in the background for a T.V. commercial. She was in a Bluegrass Band called "Swift Creek" for 2 years which performed for the International Bluegrass Music Association in Raleigh in 2013 and is now seen performing with other ensembles such as the North Carolina
Symphony.
In addition to Ashley's passion for performing, she also has a strong passion for teaching. Currently, she is a private violin and piano teacher from her home in Wake Forest where she has around 17 students and is also homeschooling her two older children who also play violin and piano. She also has 2 other younger children that are not school aged yet which keeps her very busy!